About this property
Sea Dream – Penthouse Apartments in Alicante.
From the stately medieval fortress of Castillo de Santa Barbara you can enjoy a gorgeous view on the sea and the historic center of the city. The apartment is about 5 minutes from the airport of Alicante, where you can travel with a direct flight from Budapest. The apartments near the sandy beaches are a great choice if you wish to spend your holiday sunbathing and swimming. If you choose one of these apartments, you can forget about the long car trips to reach the nearest dream-like beach, since you can see the water from your terrace already. You only have to pick up a towel and walk down to the beach. Sounds good, right?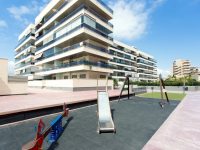 This project in Alicante consists of a 6-storey building with an underground parking lot and a rooftop unit. The prices of the newly built penthouse apartments in Alicante range from €296 000 to €440 000.  
Project presentation
The common areas take up more than 24 000 m2, where everybody can find their preferred activity in a safe area. 4 swimming pools in total, one of which is designed for sport enthusiasts; 2 sport fields, 2 paddle tennis courts, 2 changing rooms, and a spacious garden, all this for those who live here. It is an ideal place for the family to spend their time at, and it is only 200 meters from the sea. Parking is possible in a safe underground parking lot where you will have a place for two cars, which is included in the purchase price. The apartments are easy to access with the elevator.
Flooring and tiles: the bathroom walls are covered with high quality tiles up to the ceiling. The floor is made of premium quality stone.

Doors and windows: Fortified entrance door for extra safety. The garage has a fireproof metal door. The inside doors are smoothly varnished. The built in closets have doors sliding on a rail. The windows have double glass.

Kitchen: Fully furnished kitchen with silestone (or similar) worktop.

Painting: smoothly painted walls in the whole apartment.

Cables: The electric switches and and power outlets are arranged in a practical way to meet all the requirements. There are several connections for the Internet and TV in the apartment. The air conditioning has a channel system prepared, and there is a video doorbell. 
These are turnkey apartments where the new owners can move in immediately. They are empty but you can choose from different packages of furniture offered by us, which will facilitate the process of moving in for you.
You can easily lease your apartment for high prices in the peak season, this you can reach high profits while you enjoy the numerous advantages of owning a property. We can also help you obtain a bank loan to cover the price of the Spanish property of your choice.
If you found the Spanish properties interesting, contact us and we will provide you with all the necessary information. Make your dreams come true!  Call us now at +36 70 634 2499