About this property
Marina View – Seaside apartments.
We offer properties with a view on the sea, only 100 meters from the beach in the historic town of Santa Pola. This small town is only 25 minutes from Alicante, one of Spain's most important cities. The population of this city by the sea is more than 30 000, you can find all the necessary services here, and the airport is only a 15-minute drive on the highway.
You can visit the ruins of a Roman settlement, and a castle built in the 16th century as a memorial of the repopulation of Santa Pola. There is an archeology museum in the city, which presents the different phases of the local history. The unique atmosphere of this place and the wonderful beach attract many tourists, thus in summer the town fills with life, and the number of inhabitants doubles in the peak season. If you have any questions regarding the seaside apartments or the region, do not hesitate to call us at +36 70 427 2462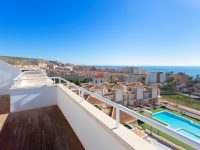 This region has the typical Mediterranean town atmosphere, with Mediterranean style buildings. The city is an important sea salt production center, where the salt is extracted from the sea water by evaporation.
Project description
The building complex has several wings, such as the bungalow-type buildings, and the apartments have a spacious terrace with a panoramic view on the sea.
In the middle of the complex there is a swimming pool and a park for relaxation, but you can also get to the beach in a few minutes by walking. There is an underground parking lot and you can purchase a storage room optionally.

We can say that the installations and the construction materials are premium quality, since the carefully selected, high quality kitchen furniture, the cold and warm flooring make the apartments even more exclusive. Thanks to the Mediterranean external appearance the building blends smoothly in the seaside urban landscape.

The prices of the seaside apartments start at €242 000
Overview of the 3-room seaside apartments
This seaside property type generally has 72 m2 of surface area and comes with a 10 m2 terrace. The apartments have 3 separate rooms, 2 bathrooms, a spacious living room, and a separate kitchen.
The seaside apartments are currently empty and ready for the new owners to move in. We also help you with the installments and furnishing – you can choose from different furniture packages and we undertake the whole process of furnishing, you only have to enjoy the advantages of the apartment and the location.
We highly recommend these seaside apartments to people who wish to enjoy all the advantages of Spain and the Mediterranean feeling in a premium quality, comfortable apartment.
If you are looking for a peaceful, safe, and comfortable permanent or holiday home, or you would like to realize a good investment, do not hesitate to call us at +36 70 427 2462
Available properties:
| | | | | | | | | |
| --- | --- | --- | --- | --- | --- | --- | --- | --- |
| | | | | m2 | m2 | m2 | | |
| 1.4.2 | 1 | – | 3 | 84,82 | 10,47 | – | 263 300 € | |
| 1.3.3 | 1 | – | 3 | 84,82 | 11,47 | – | 242 000 € | |
| 1.3.6 | 1 | – | 3 | 95,13 | 12,12 | – | 278 620 € | |
| 1.2.3 | 1 | – | 2 | 73,73 | 11,35 | – | 248 000 € | |
| 1.1.1 | 1 | – | 3 | 97,57 | 53,66 | – | 260 000 € | |
| 1.1.2 | 1 | – | 3 | 97,57 | 53,66 | – | 260 000 € | |
| 2.4.2 | 2 | – | 3 | 84.82 | 11,47 | – | 263 300 € | |
| 2.3.3 |  2 |  – | 3 |  84,82 |  11,47 | – | 242 000  € | |
|  2.3.4 | 2 |  – | 3 |  84,82 | 11,47 |  – |  245 000 € | |
| 2.2.2 | 2 | – | 2 | 73,73 | 10,46 | – |  243 000 € | |
| 2.1.1 | 2 | – | 3 | 97,57 | 53,66 | – | 260 000 € | |