About this property
Sol y Mar Golf – La Zenia
This city on the Costa Blanca is well-known internationally, mostly due to its pleasant climate all year round. The infrastructure of the region is also excellent, living here is not expensive, and thanks to its high quality health care service it is a popular target of retired people who wish to have a peaceful life and for those who are interested in purchasing an apartment in Spain.
The there is an active economic and commercial life in the region, which provides excellent investment opportunities, as well as ideal circumstances for new businesses.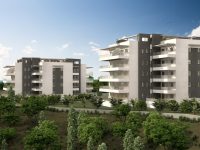 The shopping mall is only 1 km from here, and it offers shopping and entertainment opportunities on 80 000 m2 surface area. You can also find 3 golf pitches with 18 holes each within 2 km. There are extensive green areas in the surroundings. If you have any questions regarding this project, do not hesitate to call us at +36 70 634 2499
This modern style building has apartments with 2 rooms, 2 bathrooms and a unique terrace or rooftop terrace. It stands out from the surrounding buildings with its clear, modern style designed specifically for the Mediterranean climate. From the spacious glass terrace you can enjoy a breathtaking view on the beach and the city.

The home owners receive all inclusive service here, such as a spa, gym, heated swimming pool, and a sauna, which can be used by every owner, and there is a swimming pool for sport enthusiasts as well. The children can have fun on the playground and in the children's pool.

To make parking easier, there is an underground parking lot, where you can leave your car with a peace of mind. The price of the parking place is included in the purchase price.

The apartments in Alicante are 72 m2 on average and consist of 2 rooms, 2 bathrooms, a living room, a kitchen, and a spacious terrace.

 
Living room with an American kitchen: The kitchen has high quality built in furniture and flooring, and it is built as a part of the living room. A common space and a dining area can be arranged here. The glass windows have a large surface, so the natural light can come in easily and there is a panoramic view to enhance the luxury of the apartment.

Room 1:  The main room has a separate bathroom and a built in closet. The view on the sea was an important factor in the design, so you can enjoy the sea view even from your bed.

Room 2: A king size bed or two single beds easily fit in this room. It also has a built in closet for easier storage.

Bathroom: There are 2 bathrooms equipped with premium quality furniture. The ensuite bathroom contains a bathtub, and the guests' bathroom has a shower in it.

Terrace: The terrace is the gem of the apartment with its large surface area and breathtaking view. You can easily fit a sunbathing bed and a table with chairs here.
You can purchase one of these luxury apartments for as little as €147 000, and you can enjoy all the advantages of the common areas and the closeness of the sea. We can also help you with obtaining the capital to cover the price, if you need.
We highly recommend these apartments in Alicante for everyone who wishes to relax and receive all inclusive service for their money.
Should you have further questions regarding these apartments in Alicante, contact us and we inform you about all the details. Call us now at +36 70 634 2499  lukentum@lukentum.com