About this property
Sunny Hill Bungalows in Murcia
Sunny Hill is a small agglomeration near Murcia, full of Mediterranean vibes. You can purchase several typical Spanish property types for a fraction of the prices on the market. In the design of these Spanish apartments, practicality and creating a Mediterranean athosphere were of key importance. This tiny agglomeration is constantly growing and is about to undergo major development.
These smaller Spanish properties can be purchased for as little as €67 000, and the largest ones for €125 000.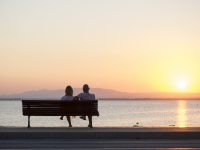 The Sunny Hill project is close to San Javier and the airport, which is approximately 18 minutes by car, and the sea is 20 minutes. In San Javier you can find a shopping mall, and a beautiful beach by the sea, which can be visited all year round.
A project description
There is a 9-hole golf course for the lovers of this sport. For relaxation there is a common area with a swimming pool, but a private pool can be built for most of the houses. An important factor in choosing a property is the surface area, which start from 64 m2 + terrace. Most of the apartments come with a basement where you can create a gym or a community room for example, or bedrooms with bathrooms – it is up to your imagination. These apartments were built a few years ago, but they have been empty since then, so they are in perfect conditions for the new owners. Parking is possible on the streets for free. Should you have any further questions regarding this project, do not hesitate to call us at +36 70 427 2462
All in all, everyone can find the most suitable one from these 7 bungalow types. The prices are very good and the properties are an ideal option for a long term investment.
We recommend these properties for those who wish to find peace and relax in a nice little agglomeration, from where they can get to the beach in 20 minutes, and enjoy all the entertainment opportunities in the nearby cities, whenever they feel like. 
Should you have any questions about the project, contact us and we will provide you with all the necessary information. Make your dreams come true! Call us now at +36 70 427 2462. lukentum@lukentum.com